Book Your Elegant Event Today
Create a memorable experience with professional harpist Roseanne Gortenburg
Book Your Elegant Event Today
Create a memorable experience with professional harpist Roseanne Gortenburg
"*" indicates required fields
Meet Roseanne Gortenburg
Roseanne chose the harp for its unique sound, elegant stature, and challenge to master. She is the quintessential harpist having performed in many venues throughout the Midwest for occasions as varied as intimate parties of 2 to gatherings of 500 as well as orchestra and chamber music performances and healing concerts. Roseanne has an eclectic repertoire and enjoys learning new and diverse music.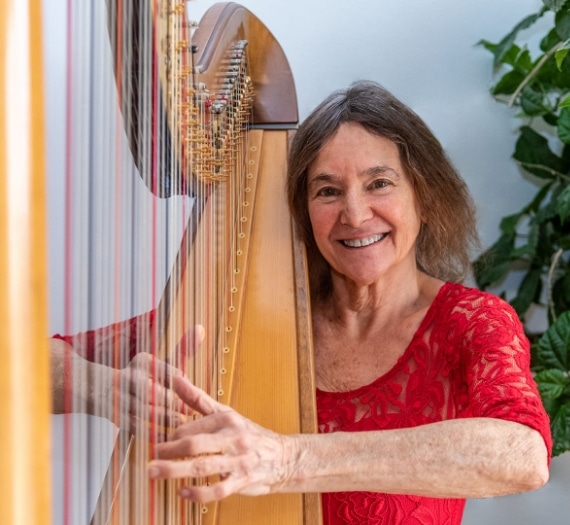 From Classic to Pop: Performing in the Kansas City Area
Roseanne Gortenburg is a classically trained harpist in Kansas City who provides a variety of music for any event including weddings, corporate events, concerts, and more. Roseanne plays a large variety of music styles including Classical, Pop, Traditional, and Inspirational. Whether you're interested in classical harp music for your wedding or contemporary lounge music for cocktail hour, Roseanne Gortenburg will create an ambiance that will make your event become a lasting, memorable experience.
Roseanne did a magnificent job at our ceremony. She added an exceptional touch to our ceremony and helped to make our day the wonderful one it was. She is indeed a truly talented and entirely professional musician.
- Ari K.
Roseanne played the harp for our tea event. It was absolutely beautiful and made the tea very special.
- Judie S
Roseanne performed at our annual meeting. The feedback and comments from our members were outstanding.
- Beth
The music was beautiful in our ceremony. The harp was perfect in the Powell Gardens chapel and Roseanne is a very talented musician.
- Bobbie L
Roseanne played absolutely beautiful music at my mother's funeral last week. It truly was "heavenly".
- Jennifer V
We the student body of Englewood Christian Academy would like to say how much we enjoyed the beautiful music that Roseanne provided during our Junior-Senior banquet. The music added that special touch to our special evening.
- Englewood Christian Academy Student Body and Faculty
Roseanne worked with us to stay within our budget. I was so truly moved by her music.
- JL & Amanda
Roseanne made our wedding day so lovely and memorable by sharing her musical gift.
- Jacque & Marc
Harp and Trumpet Duo
Roseanne Gortenburg and Kevin Clark playing "Oh What a Beautiful Morning"
Ruel Joyce Recital Series - Harp 2 Harp
Roseanne Gortenburg and Phaedra Moll performed as part of the JCCC Ruel Joyce Recital Series.
Frequently Asked Questions
Do you require a deposit?
I do.  I have a contract and ask for a deposit.  The contract and deposit guarantee you my services for that date and time.
Do you attend rehearsals?
I am a professional who has played countless weddings. I am not needed at the rehearsal and I charge for it.
What equipment do you need?
I am self-contained!  I bring my own chair and music stand—along with the harp of course!
What kind of music do you play?
I play all genres from— Beethoven to Beatles - Debussy to Duke Ellington - Satie to Stairway to Heaven - Mendelssohn to Mariah Carey
I've even rocked Foo Fighters plus the wealth of Celtic music. I am glad to fill requests
Samples song lists include:
Classical
Bridal March - Wagner
Canon in D - Pachelbel
Jesu, Joy of Man's Desiring - Bach
Trumpet Voluntary - Purcell
Ode to Joy - Beethoven
Ave Maria - Schubert
Spring - Vivaldi
O, Mio Babino Caro - Puccini
Morning Mood - Grieg
Flower Duet - Delibes
Wedding Recessional - Mendelssohn
Rondeau - Mouret
Arioso - Bach
Dance of the Blessed Spirits - Gluck
Sheep May Safely Graze - Bach
Sonata Theme - Mozart
Harmonious Blacksmith - Handel
Gymnopedie I - Satie
Traumerei - Schumann
Largo - Dvorak
Pop and Standard
Stand By Me
When You Wish Upon a Star
A Thousand Years
Everlong
All You Need is Love
All I Ask of You
When I Fall in Love
Sunrise, Sunset
Lady
Can't Help Falling in Love
The Way You Look Tonight
Somewhere My Love
It Had to Be You
Fields of Gold
Always on My Mind
Hawaiian Wedding Song
Beauty and the Beast
The Rose
One Hand, One Heart
Your Song
Hallelujah
Traditional
Amazing Grace
Morning Has Broken
Air: I Love My Love in the Morning
The Ash Grove
Down by the Salley Gardens
Danny Boy
The Minstrel Boy
The Harp That Once Through Tara's Halls
Banish Misfortune
The Blackbird
The Gartan Mother's Lullaby
Inspirational/Religious
You Raise Me Up
O Perfect Love
Ave Maria
Abide With Me
Blessed Be the Tie That Binds 
Erev Shel Shoshanim
Dodi Li 
Erev Ba 
Faith of Our Fathers 
For the Beauty of the Earth
I love playing outdoors as long as the weather is compatible. The harp cannot get wet.
What happens if you have to cancel?
I have performed at many, many events and I have never canceled.  If there were an emergency I would find a replacement who is also a professional.
Do you charge for set-up time?
I consider set-up as part of my job and it is part of my fee and is not an additional charge.
How early do you arrive before start time?
I like to have 30 minutes to unload the harp and my other equipment, move and re-park my car if necessary, and check my tuning so everything is ready by start time.
Classically Trained to Bring Elegance to Your Next Event
With a wide range of musical variety, Roseanne has the artistic capacity to transform your event into a timeless, magical, and unforgettable experience.